Pasture reared
Accurate identification via DNA check
i50K tested
Performance assessed through Breedplan
No unnecessary supplementation
Leave Clinker Hill with no DDT in carcase
Selected for temperament
T.B. Accredited Free Herd C10
Brucellosis and mannosidosis free herd
Tested clear and Vaccinated for BVD
Guaranteed for fertility and soundness.
Fertility tested by Xcell
Other tests available on request
Guarantee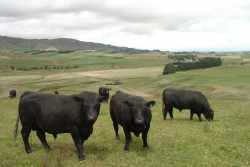 The entry of a Kowai bull for sale carries with it an undertaking by Kowai Angus that the bull is sound and capable of service.
If the Kowai bull does not perform as a result of his own fertility or a structural defect, excluding injury and illness, the purchase price, or part thereof if after one season, will be refunded
Conditions of Guarantee
In every case a trial period of nine calendar months from the date of the sale must be allowed to test the fertility of the bull.
The bull must be given full and sufficient opportunity to prove that he is a good server and stock-getter.
The bull must have proper care and attention and be maintained in good condition and health.
Notify the breeder, so he can advise on Guarantee procedures.
Vet certificate or letter of infertility or unsoundness must be sent to breeder.
Please notify breeder prior to disposing of bull unless for humane reasons.